The Dancer and Instructor

Duc still was a youngster from Berlin (Germany), when he was driven by his love to Jazz music so much, that he was looking for dances suiting to this music. After endless nights of research on Youtube he accidently found a wonderful clip of Lindy Hop Dancing, where people from different sex, races and ages were having fun dancing together (check Media for that clip). Seeing them dance with each other with so much freedom in their steps and styles, he was immediately convinced to learn this dance. From that moment on he became addicted to Swing Dancing, took countless lessons, attended international workshops and danced all over the world like crazy. Within the years he learnt more authentic Jazz related Dances (Charleston, Solo Jazz, Blues and Balboa), performed for movies/music videos with different show troups ("Public Jitterbugs", "Jolly Jitters") and became a known dancer/DJ on international dance floors. To improve his dancing skills Duc started to teach and also DJed several years after his new (dance) life began. Finding out how much fun he and the people who he taught have had with it, he finally made the decision to work as a full time dancer, instructor and DJ to share the fun he has with Swing Dancing with the people.
DJ Dukeyduke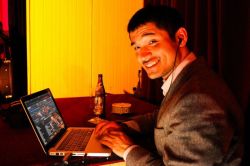 As a dancer travelling to dance floors all around the world, Duc evolved a very selective taste for good music and started collecting music for his own dance practice. Soon, his collection got bigger and bigger and includes a bunch of tunes, which he would love to dance to at a party. Finally his very first try-out as DJ Dukeyduke happened at the regular party of his local dance school "Jeder-ist-Tanzbar" in Berlin, where he is still DJing sometimes. Encouragedby the people, who like his sets, he continued DJing and seeking new material to keep his playlist fresh. Due to his sense for what moves the people, he became an established DJ. With the beginning of the big Blues dance rush on Europe he found his new passion. Fascinated by this dance, music, its culture and feeling he decided to grow the Blues scene in his home town by not only bringing the Blues to the dance classes, but also to the dance floor as DJ and organizer of regular Blues parties. Today he plays his Swing and Blues sets regularly on national and international events.