Einstieg jeder Zeit
mind. 4 Monate Tanzerfahrung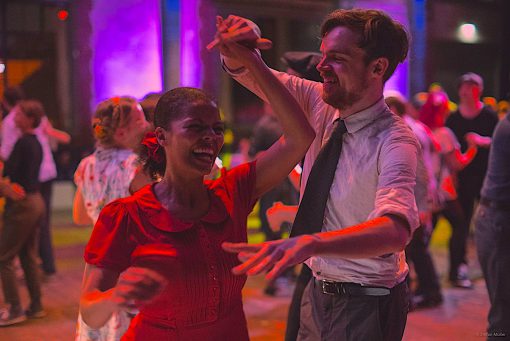 Du hast bereits alle Grundlagen des Swing-Tanzes drauf und willst jetzt ins nächste Level?
Unter unseren vielen Unterrichtsangeboten findest Du ganz sicher das passende Level für Dich. Wir helfen wir Dir gern dabei, den geeignetsten Kurs für Dich zu finden.
Wenn nicht anders angegeben, dann ist der Einstieg in alle nicht-Beginner Kurse jeder Zeit möglich. Es gibt keinen fixen Starttermin.
Besuche eine Einzelklasse, einen Kursblock oder mehrere Kurse mit dem "All You Can Dance" Angebot.
Alle Klassen im Swingspiration Dance Studio
Körtestr. 10, 2. Hof, Aufgang 1 (ganz hinten), 2. OG
Wenn nicht anders angegeben, dann kannst Du jeder Zeit einsteigen!
Montag

Dienstag

18:00 - 19:00

Magic Mondays

(siehe unten)
18:00 - 19:00
Solo Jazz Beg Drop-in

Ana
19:05 - 20:05

Int/Adv

Ana & Samu
19:05 - 20:05
Swing Beg/Int

Ana & Samu

20:10 - 21:10
Swing Beginners (siehe Beg Klassen)

20:10 - 21:10

Technique Tuesdays

(siehe unten)
NEU! ab 3.2.
21:15- 22:15

Solo Jazz Troupe Int

w/ Samu
21:15 - 22:15

Invitational

Ana & Samu
Mittwoch

Donnerstag

18:00 - 19:00
Swing Beg/Int

Ana & Samu
18:00 - 19:00
Swing Int+

Ana & Samu

19:05 - 20:05
Swing Beginners
(siehe Beg Klassen)
19:05 - 20:05
Swing Intermediate

Ana & Samu
NEW! from Jan 22nd
20:10 - 22:15

Solo Jazz Troupe Int/Adv

w/ Ana
NEW! from Jan 23rd
20:10 - 21:15

Lindy Troupe

w/ Ana & Samu
21:15 - 22:15

Solo Jazz Troupe

Ana
NEU! 13.02. - 05.03.
21:15 - 22:15

Blues Beginners

w/ Ana & Samu
Sonntag
Ab 2020
15:00 - 17:00
FREE SWING PRACTICE
Balboa Beginners Everybody Leads Everybody Follows (ELEF)

w/ Duc
18:05 - 19:05
Swing Beg/Int

Duc
NEW SPECIAL CLASSES
BLOCK COURSES TAILORED TO YOUR WISHES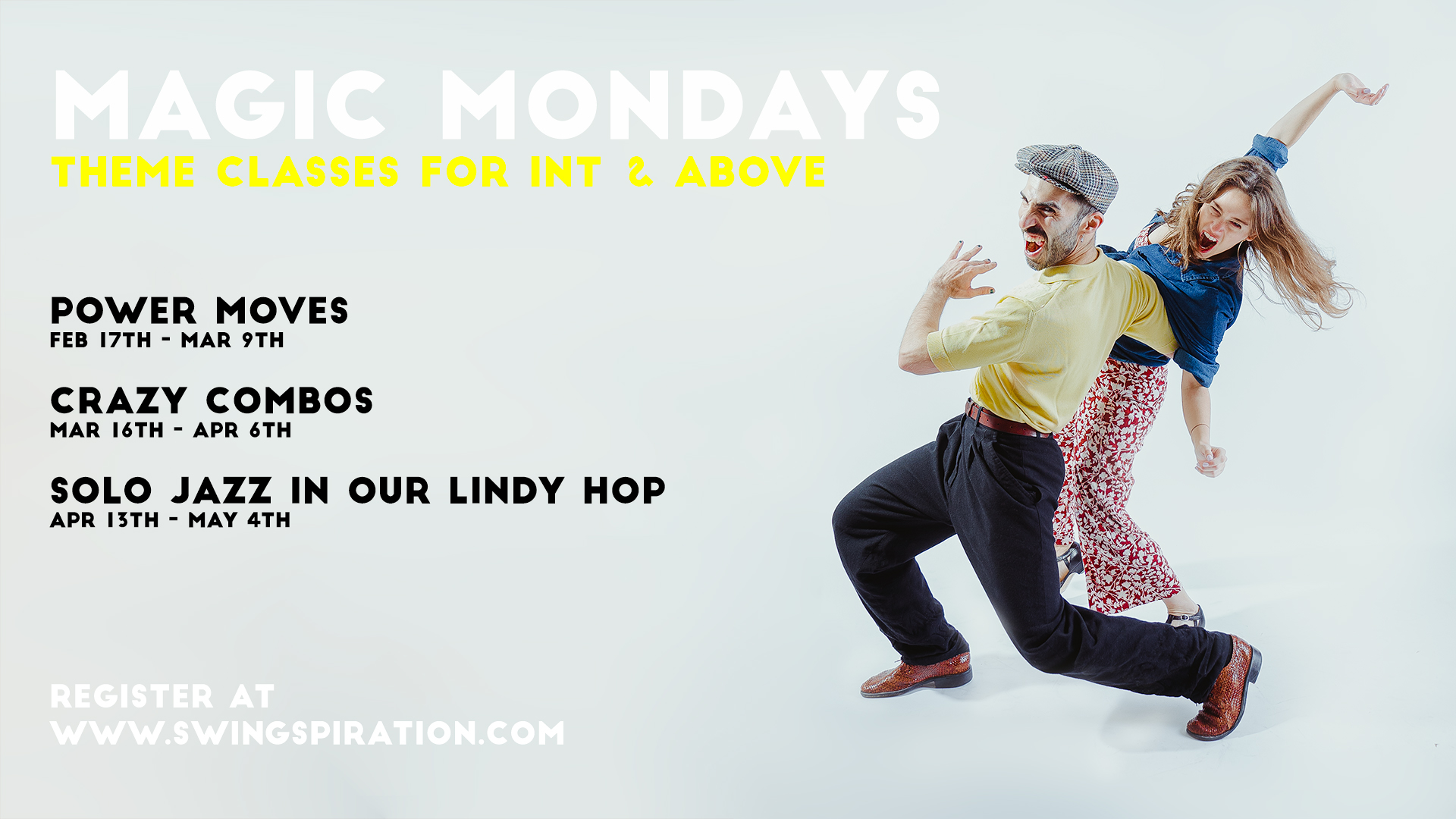 Our Mondays are for intricate and cool topics for Intermediate level and up, where Ana & Samu bring their knowledge and energy for you to dive into the world of this dance!
Every Monday 18:00 – 19:00
⭐️ POWER MOVES (Feb 17th – Mar 9th) ⭐️
In these four sessions we will learn powerful and impressive moves that will give us the
opportunity to be more flashy on the dancefloor.
⭐️ CRAZY COMBOS (Mar 16th – Apr 6th) ⭐️
Want to work on how to mix Charleston with triples, have material to go on circle jams, and learn cool transitions? This is the four-session block for you!
⭐️ SOLO JAZZ IN OUR LINDY HOP (Apr 13th – May 4th) ⭐️
Learn how to be more individual in your Lindy Hop: how to include Solo Jazz shapes and rhythms between your Lindy Hop role and the music.
? PRICES ?
4 sessions block: 40€ OR All-You-Can-Dance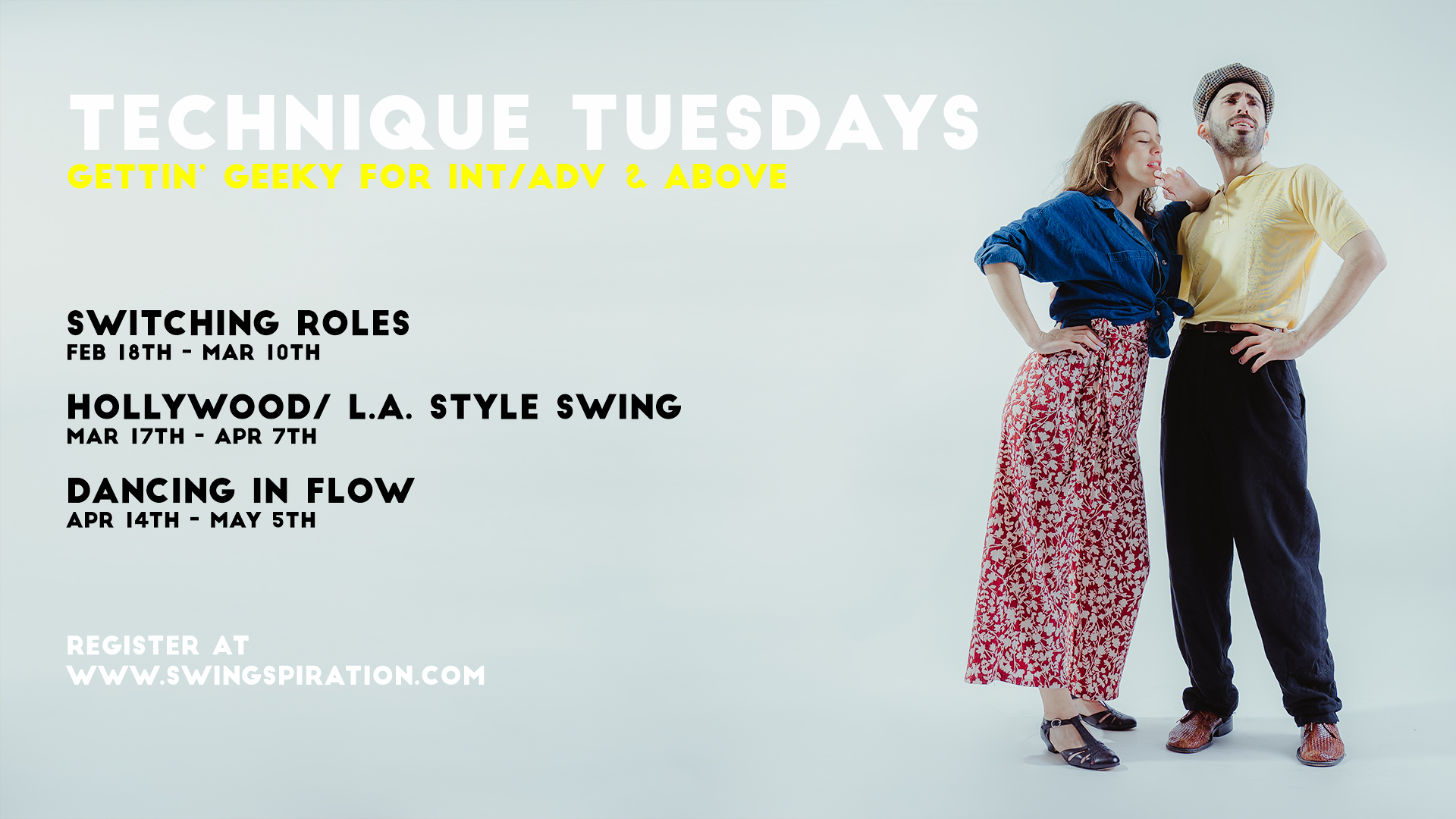 Want to work on your technique and brush up your Lindy Hop? That's what Tuesdays at Swingspiration are for. Ana & Samu will share their knowledge on the technique of
this dance so you level up your skills!
Every Tuesday 20:10 – 21:10
⭐️ SWITCH DANCE (Feb 18th – Mar 10th)⭐️
In these four sessions we will learn the technique behind being able to switch roles between the dance, increase and decrease energies initiated by both roles and have a more multifaceted dance with your partner.
⭐️ HOLLYWOOD/L.A. STYLE LINDY HOP (Mar 17th – Apr 7th) ⭐️
We'll dive into the world of the more stretchier, counter balance L.A. style dance, taking advantage of Samu TiemblaElmisterio's Hollywood style dance background.
⭐️ DANCING IN FLOW (Apr 14th – May 5th) ⭐️
This is Ana's favourite topic: how to never stop moving and flowing while you're dancing with a partner. In these four sessions you will work on your rhythm, cool transitions, but mostly on the idea of continuation and harmony with the music and the space.
? PRICES ?
4 sessions block: 40€ OR All-You-Can-Dance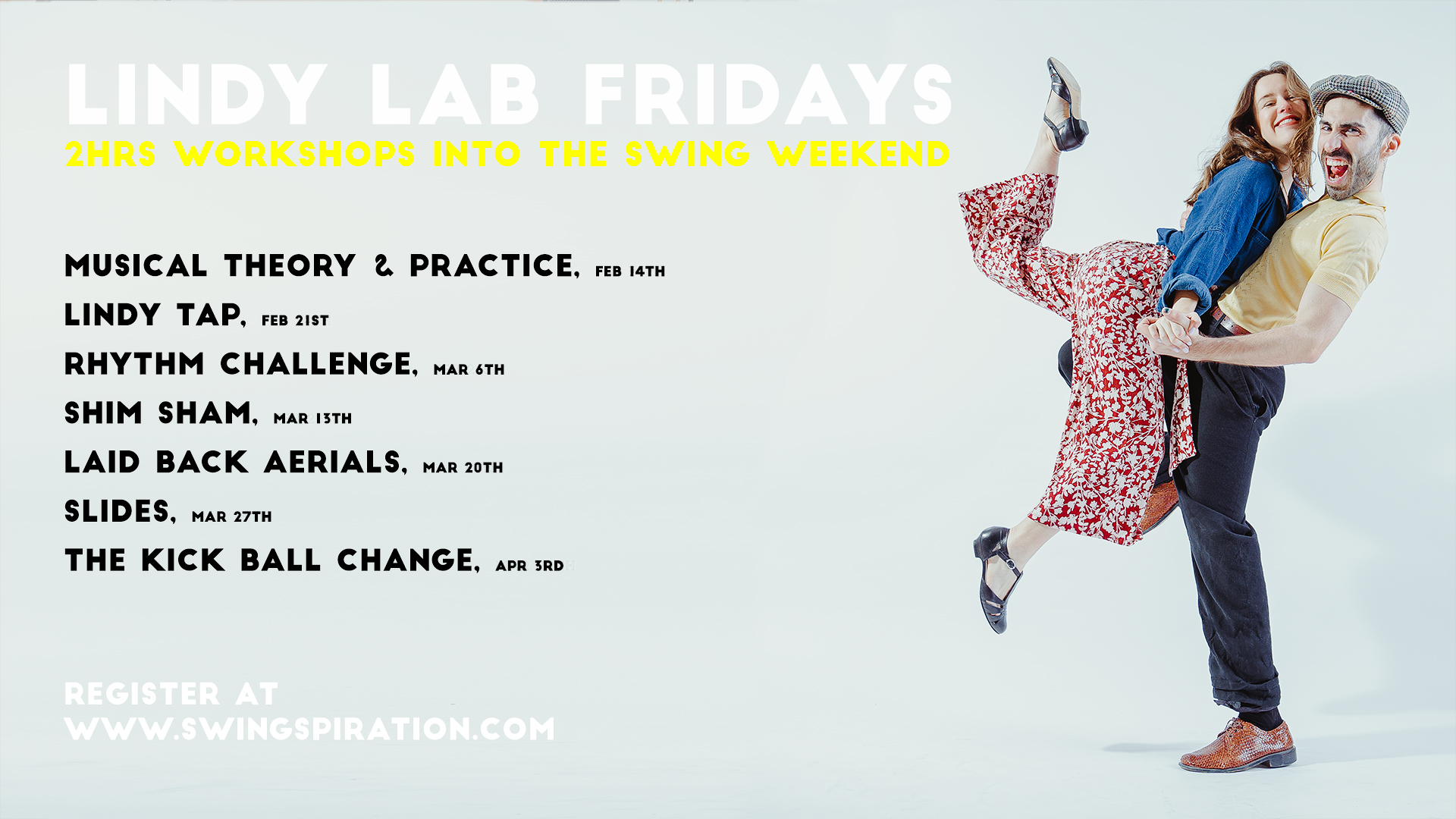 Here at Swingspiration we thought of bringing you a new concept: a series of 2 hours long affordable workshops on Fridays 18:00 – 20:00 focussing on varied topics.
⭐️ 14TH FEBRUARY: MUSICAL THEORY AND PRACTICE WITH ANA ⭐️
In this session we will talk about musical theory, musicality for dancers, and apply it to our solo and partner dance. It will be an intensive session of theory, listening to music and dance exercises!
⭐️ 21ST FEBRUARY: LINDY TAP! ⭐️
Int/adv level required. We will work on tap dance variations within our lindy hop, to add individual variations to our swing dance and dip our toes into the world of tap.
⭐️ 6th MARCH: RHYTHM CHALLENGE! ⭐️
Int level required. We will work on lindy hop dance combinations that will challenge our rhythm and memory and will be applicable to the social dance floor.
⭐️ 13th MARCH: LEARN THE SHIM SHAM! ⭐️
The shim sham is one of the most iconic solo jazz choreographies of the swing world. Learn it with Samu in two hours!
⭐️ 20th MARCH: LAID BACK AERIALS! ⭐️
Int level required: bring a partner! Learn some easy going yet intricate aerials that you can safely practice. We will not switch partners during class, so make sure you bring someone you're comfy with!
⭐️ 27th MARCH: SLIDES! ⭐️
Int/adv level required: learn how to slide in your partner dance. We will learn variations that will require us to slide: please bring slippery shoes!
⭐️ 3rd APRIL: THE KICK BALL CHANGE! ⭐️
For beg/int: learn the kick ball change, where to place it, and new moves that come out of it!
? PRICES ?
25EUR per workshop session (not incl. in All-You-Can-Dance)
+

Beginner/Intermediate
Du kennst nun alle Grundschritte des Lindy Charlestons, 6- and 8-count Swings (basic charleston, hand-to-hand charleston, cross kicks, circle, send-out, bring-in, pass-by, tuck turn, swing-out, triple step …)? In diesem Kurs lernst Du, die Systeme zu vermischen und fügen mehr Drehungen, Variationen und Styling hinzu. Zudem wirst Du lernen, Deinen Tanz durch bessere Technik flüssiger zu machen.
+

Intermediate
"Ich kenne nur einen Count und das ist Count Basie!" (Frankie Manning, Gründungsvater des Lindy Hop).
In diesem Kurs lernst Du, Lindy Charleston, 6- und 8-Count Swing miteinander zu vermischen & zu verknüpfen, um Deinen Tanz vielseitiger zu gestalten. Außerdem wirst Du neue Figuren, Variationen und Techniken kennenlernen, die Dir auf der Tanzfläche mehr Sicherheit und Freiheiten geben. Für dieses Level musst Du das Beg/Int Level abgeschlossen haben.
+

Intermediate/Advanced
Um an diesem Level teilzunehmen, sollten Deine Grundschritte sicher und fließend aussehen und sowohl langsame als auch schnelle Songs sollten Dir keine Probleme bereiten. Deine Technik und Deine Grundlagen sollten Dir erlauben, dass Du unterschiedliche rhythmische Variationen anwenden und ohne Scheu improvisieren kannst.
+

Advanced
In diesem Level ist die Bereitschaft zu Selbstkritik wichtigste Voraussetzung. Wir empfehlen Dir, Dich nicht zu überstürzt für dieses Level anzumelden. Die Anzahl von besuchten Unterrichtsstunden oder Tanzjahren sind weniger wichtig als Dein individueller Tanzstil und das Wissen darum, dass man als guter Tänzer immer wieder zurück zu den Basics geht. Du solltest in der Lage sein, nicht nur klar zu führen/folgen, sondern v.a. auch auf Deinen Tanzpartner zu HÖREN & EINZUGEHEN
1 Monat
All You Can Dance
1 Monat
lang so viel tanzen wie ihr wollt.
3 Monate
All You Can Dance
3 Monate
lang so viel tanzen wie ihr wollt.
1 Zahlungspause von bis zu 2 Wochen möglich.
1 Monat Kaution
6 Monate
All You Can Dance
6 Monate
lang so viel tanzen wie ihr wollt.
2 Zahlungspausen jeweils bis zu 2 Wochen möglich.
2 Monate Kaution
4 Wochen Kurs
Regulär
4 x 60min Unterricht
innerhalb von 5 Wochen einzulösen
4 x Video recaps
Kein Partner notwendig!
Einzelne Klasse / Drop-in
1 x 60min Unterricht
1 x Video recap
Bei Paartanzklassen bitte vorher anfragen oder anmelden!
Auch telefonisch: 01577 15 678 51
+

Wann startet der nächste Kurs?
Sofern kein Starttermin angegeben ist, kannst Du jeder Zeit bei uns einsteigen.
Deine erste Kursteilnahme bestimmt das Datum Deines Kursbeginns.
+

Welches Klassenlevel ist das richtige für mich?
Wenn Du uns vor Kursbeginn kontaktierst und uns Infos über Deine bisherigen Tanzkenntnisse gibst, dann können wir ungefähr Dein Level einschätzen.
Eine genauere Leveleinschätzung können wir Dir geben, wenn Du direkt mit unseren Lehrern tanzt.
Alternativ kannst Du auch einfach an einem Unterrichtstermin probeweise teilnehmen und wir besprechen danach, ob das Level für Dich passt. Bitte mache unsere Lehrer vorher darauf aufmerksam.
+

Was sind die Bedingungen des All-You-Can-Dance Tarifs?
Für ein homogenes Kursniveau kannst Du natürlich nur Kurse in Deinem Level oder niedriger besuchen.
Für ein besseres Kursmanagement musst Du Dich unbedingt auch für all Deine Wunschkurse anmelden. Wenn Du unangemeldet zum Unterricht erscheinst, kann es sein, dass wir keinen Platz mehr für Dich haben.
Umgekehrt sage die Klassen ab, die Du nicht mehr wahrnehmen willst, sonst haben wir Deinen Platz umsonst frei gehalten und müssen Dir für jede unangekündigte Abwesenheit 5EUR berechnen. Gleiches gilt für Absagen weniger als einen Tag vorher.
Solltest Du ein Mehrmonatspaket buchen, dann fallen zusätzlich Kautionsgebühren an, die spätestens beim ersten Kursbesuch vollständig zu zahlen sind. Bei fristgemäßer Zahlung und nach Ablauf Deines Tarifs erhälst Du die Kautionssumme zurück. Bei Zahlungsverzug (gleich Anzahl der Kautionsmonate) erstatten wir die Kaution nicht zurück.